David Beckham in Japan.
He is not the Hollywood star.He is not the beautiful actress.He is just a soccer player but He is a star of this world definitely.David Beckam,Real Madrid came to Tokyo on 24th Sunday and He didn't show the exhaustion and smiled to Japanese fun in Narita Airport.They are gonna play the game with 1969 Tokyo Verdy on 25th.They came here as Friendship tour.
They are on World tour.They go to the US,China,Japan and Thailand.According to the news They are gonna earn 20 million euro by selling ticket,official goods,blabla...which is...what?
Anyway It's gonna be great game today.David Beckham,Figo,Zidane,Ronaldo.What kind of tricky play are they gonna show us? I really can't wait to watch the game!!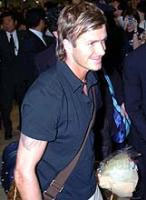 David Beckham