XBOX360 finally came out in Japan!
XBOX360 finally came out in Japan.Microsoft did a countdown event in Shibuya at TSUTAYA.According to the news Alot of people were waiting for me.Am I gonna get it? I think I don't think so in this time.I am also a game fun but not a XBOX fun at all.
But I want to think about XBOX's strategy now.First They started to sell the XBOX faster than Play staion 3.Because It was one of the reason that the first XBOX couldn't beat the Play staion 2.and Second,XBOX has alot of softwares at first.The softwares are really important for hardware.Nothing can do without games.and In this time Microsoft hired Japanese famous game creater and companies such as like Square-Enix.I still remember really long time ago that when the playstation 2 produced in Japan.My friend bought a playstation 2 with Final Fantasy 7(?) maybe.The users choose the hardware by games basically.That's why They aimed this point.I guess It was really wise and accurate idea.So In the near future we will see Dragon Quest and Final Fantasy on XBOX360 soon.and Their commercial are showing on TV every day.and The grest thing is they built the XBOX show room building called XBOX lounge in Tokyo.How rich they are..
It seems a Game War.A histrical game company Sony Computer Entertainment Inc will produce a Play staion 3 next spring.and Incredibly fast marketing and huge strategy XBOX360 came out all over the world faster than Sony.Which one is be the one? I am not sure but I am really curious about this game.
xbox360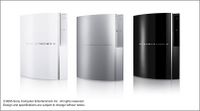 Playstation3