Ono Shinji is back in Japan!
Ono Shinji,one of genius soccer player,who has been in Feynoord,Netherlands so far.But Finally He came back to Urawa Red diamonds,Japan! Hmm.... I am kind of complicated feeling now.I really like him.He is kind of a guy who always make a good assist.He is really good at passing the ball.So He went to the Netherlands.However He always hurts himself.Therefore He couldn't stay in the Netherlands anymore... Hmm...I wanted to stay him in Feynoord..but Urawa Red diamond is kind of offical soccer team in Saitama prefecture where I live.So It is kind of happy too... He says He is still interested in playig the game in European country.But He made a contract with Urawa for 3 years.I really hope that he will back to the Europe and do the nice game there.
But anyway,Okaeri nasai!Ono Shinji!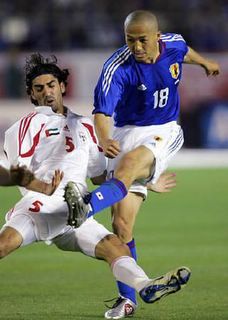 Shinji Ono